This week I had tons of fun teaming up with Jenn Barrette to make this bro-tastic kit! This is for all the best bros both out there! Check it out, you are going to love "Bad Bromance:"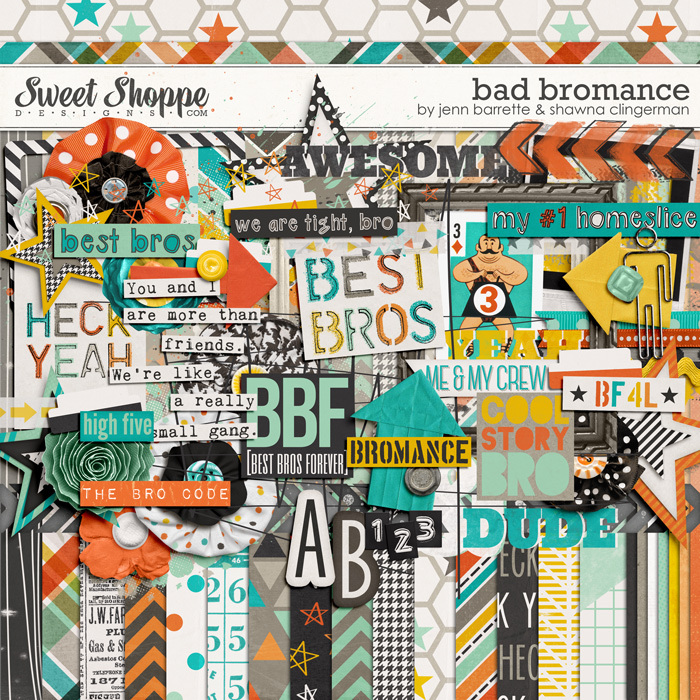 I always just adore the collabs I create with Jenn Barrette, her eclectic, fun style is one I ADORE and I feel like we always rock it together!! (One of my all time favorites is Lean, Mean, Drama Machine – although I think this one takes its place now as best Shawna & Jenn kit ever!).
I absolutely can't wait to find the time to scrap with this one, I have loads and loads of "Bro" pics that have been waiting a kit like this! In the mean time, check out some of the amazing layouts from our teams:

Hehehe! So fun! Oh how I love boy layouts!!!
You can pick up Bad Bromance in the shoppe today and save 20% off! New release discount is good through Saturday Night AND this week kicks off our first Summer Sixlet of the season – you can get both our featured designer kit AND this limited edition collab FREE with your purchase of 10 or 15 dollars!
Well that is all from me this week!  Hope you enjoy!! Keep your eye on the blog this week, we have awesome inspiration coming your way so keep checking back!
<3 Shawna