Subscribe: Apple Podcasts | Google Podcasts | Spotify | YouTube 
About This Episode:
In episode 3 of the Fearless with Shawna Clingerman podcast, we're going to talk all about The 100 Day Project, recurring creative practices – and how to create regularly in a way that actually serves YOU.
In this episode we will cover:
What exactly is the 100 Day Project???
Why I love daily and reoccurring creative practices  
Why I DON'T love daily and reoccurring creative practices
What reoccurring creative practices have been most meaningful for me
Here is a photo from my Instagram back in 2017 when I did my first 100 Days Project: 100 Days of Watercolor –
 

 

View this post on Instagram

 
Most importantly, in this episode, we talk about setting yourself up for success and allowing creativity to feel like play…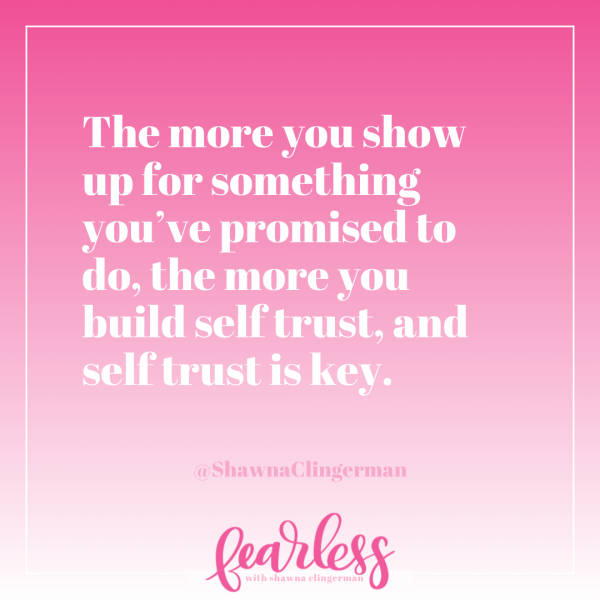 Focusing on the importance of the following:
setting reasonable goals
creating space in your calendar
AND why it matters to share, share, share your work!
In the end, what matters most for you, is what matters to YOU:
The more you show up for something you've promised to do, the more you build self trust, and self trust is key.
Remember, friend, you have permission to set your own rules:
There's no reason you have to do something the way everyone else does it, instead, decide to do something because it serves YOU!
Next Steps:
Ok, it's your turn! Listen through today's episode and then let me know what you discover about yourself when you tackle my very first challenge for you: 
Start looking for your own regular practice to build creativity and self-trust!
After you listen I'd love to hear what you think! Leave me a review over on iTunes, or leave a comment on my social media posts on Instagram or Facebook –  I'd love to hear your thoughts, insights, and see any permission slips you have to share!
When you share, be sure to use the hashtag: #fearlesswithshawnaclingerman and tag me @shawnaclingerman so we, (both myself and the rest of your fearless friends) can connect, get inspired, and encourage each other along this podcast journey!!
Important Resources and Links:
PLEASE NOTE – some of the above may be affiliate links – When you purchase through my affiliate links I may be compensated at no extra cost to you.
Want more content from Shawna? Be sure you are following along with her here:
Don't miss a single episode! Subscribe to Fearless with Shawna Clingerman on your favorite platforms:
Listen/Watch On: Apple Podcasts | Google Podcasts | Spotify | YouTube