Yippee!!! Time to introduce you to my newest collection in the Illustrated Faith Print and Pray shop, this one is called: MIXED FEELINGS.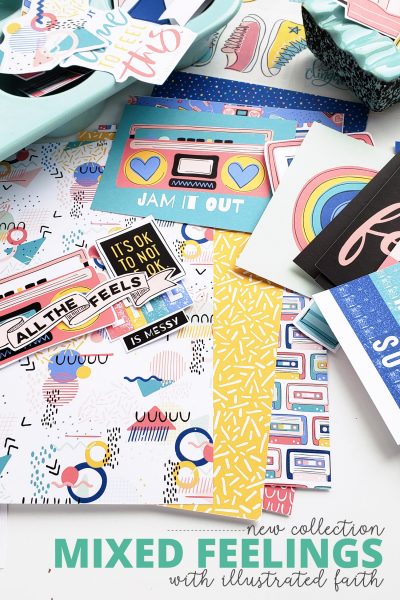 This collection, once again, came from where I'm at in my soul right now… and be honest, that is kinda all over the place! Life is crazy, I seem to be constantly on the edge of overwhelm… I'm finding myself just trying to remember over and over, to give myself space to just feel all the feels and get through this stage.
As I've been reflecting on feeling all the feels I can't help but have a throwback to being a sassy teenager and all the feelings that entails so I went for a retro 80ies vibe and I made this collection all about the mixed emotions we face in this life, and about the awesome truth that God always has room for us, even when things are messy and life is a bit out of control. What a gift to be loved an accepted, even in our most uncertain and maybe even sassy states!
If you want to see a full flip through check out this YouTube video! I'll talk you through it and show you the bits piece by piece.
AND here are a few more peeks at this collection:
Like always, this month I have for you a set of cut apart ephemera, a set of journal cards, and a set of coordinating patterns – You can pick up this collection over in the Illustrated Faith Print and Pray Shop TODAY! Click the images below (or the link above!).
There you have it sweet friends! I hope you enjoy feeling all the feels as you work though this month's collection with Illustrated Faith!!