I'm totally proud of myself, I have finished 3 more spreads for my project life album!! Since Wednesdays on the blog are all about me, and I'm obsessed with Project life, I'm going to go ahead and share them! (if you want to read journaling or anything you can just click on the images for a close up)
Week 2 – I had these cute little number brads from my smash book, so I decided to journal with numbers, each number on the card coordinates with a photo 🙂
Left Side: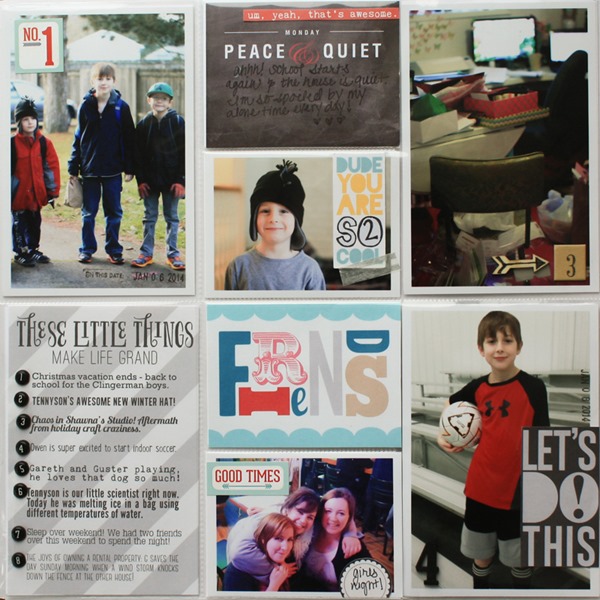 Right Side:
Double spread: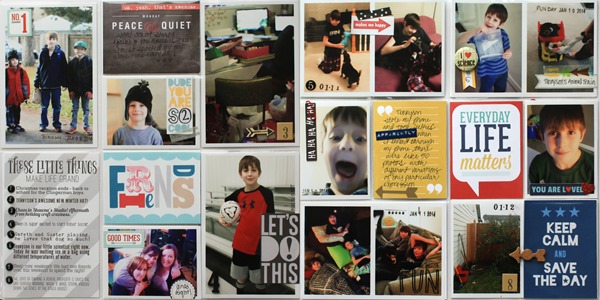 A close up, mostly just because I think they close up photos look super cool LOL!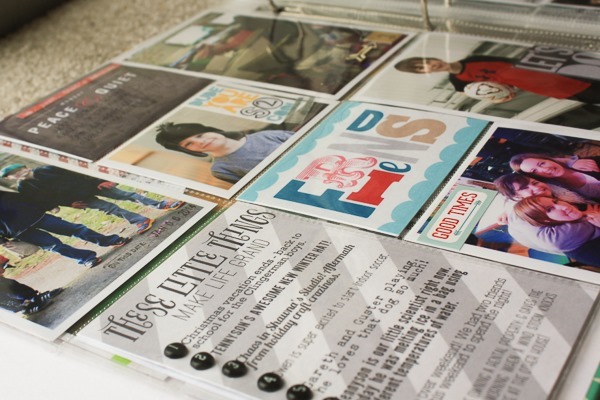 Week 2 credits:  "Dude you are so cool" , "Ha Ha Ha" and "Lets do this"  word art as well as the "These Little Things" are from my kit All the Little Things . "Friends" card is from my Mix 'n' Match Journals  3. "Keep Calm and Save the Day" is from my Mix 'n' Match Journals 9.  Peace and Quiet Card is a freebie you can find HERE. Other Cards on Right side, "good times", "#1" are all from Echo Park.  "You are loved" word strip is from Pocket Life: January by Traci Reed.
Here is week 3 – for this week I almost exclusively used Traci's Pocket Life: January set and it helped to make it flow super easily – I like to mix and match stuff a lot, but it does take out some of the obsessing to be able to just grab all the cards from the same folder on my computer. I'll probably use both ways depending on my mood 🙂
Left side: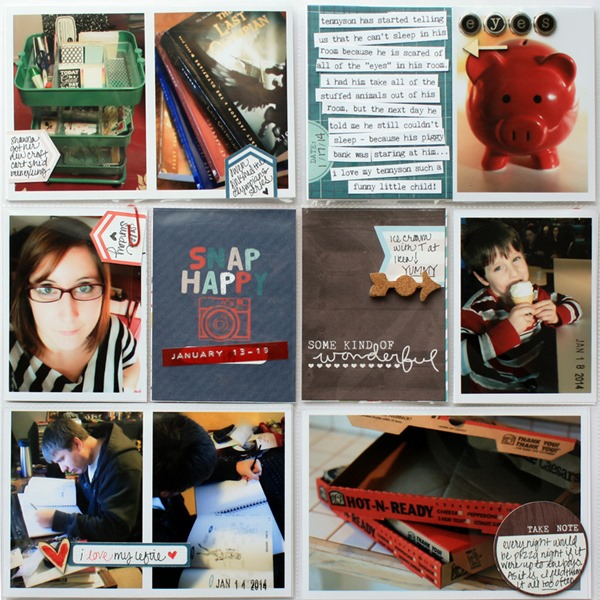 Right Side: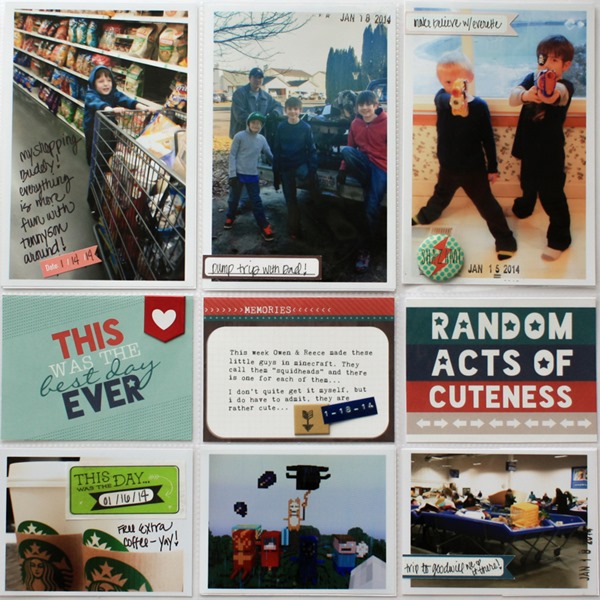 Full Spread: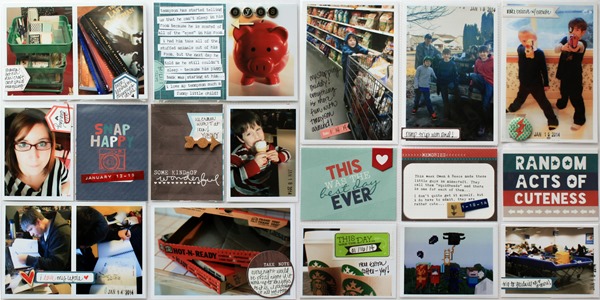 and a close up, I'm really liking the affect when I put some pops of dimension in there with a few random elements: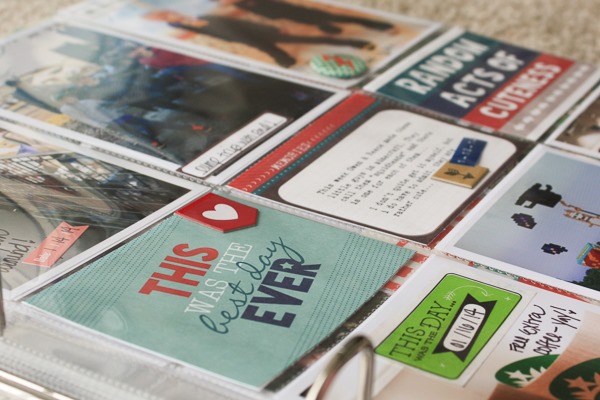 Here is Week 4:
Left: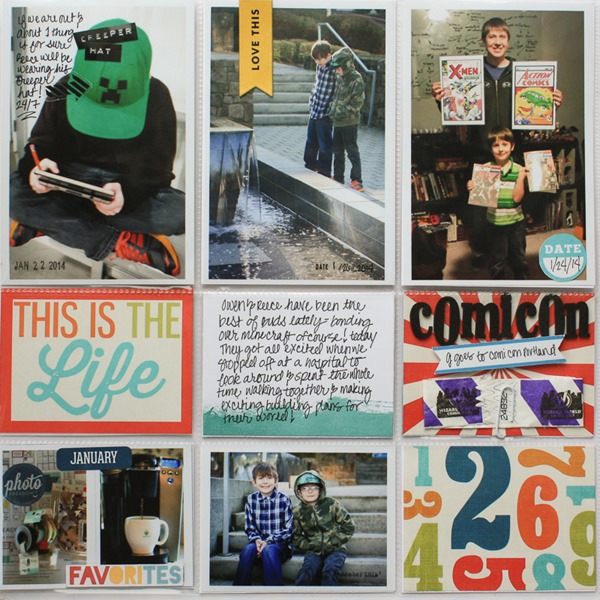 Right side: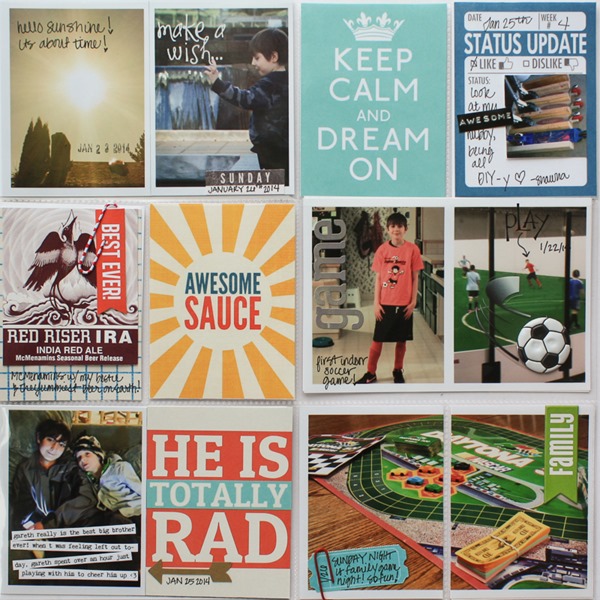 Full Spread: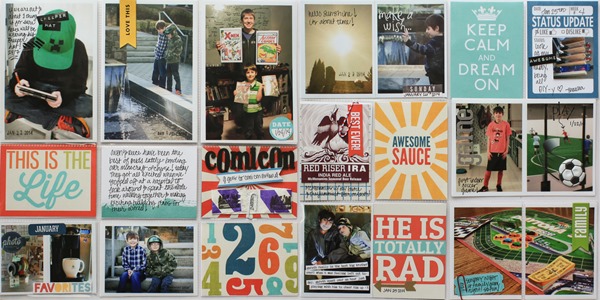 Close up, I'm especially proud of my little red riser IPA paper, that I kinda swiped from the table to commemorate a night out with my bestie: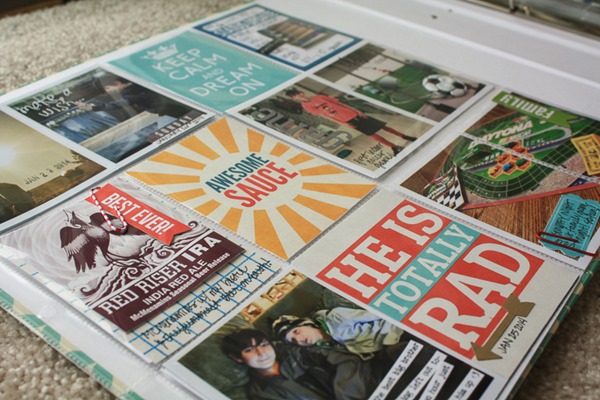 Credits – Blue painty journal card is from my Mix 'n' Match Journal Cards 2. "Keep Calm and Dream On" from my Mix 'n Match Journals 4. The rest of the cards are all part of Kristin Cronin-Barrow and Zoe Pearn's Life Stories: This Boy Filler Cards set.
Sorry for the Layout overload!!! I'll try to post things a bit more evenly as I get into a routine with it. I am absolutely LOVING having these finished, it is so super cool to see little pieces of our life chronicled like this – not capturing photos and scrapbooking them is something I've really been guilting myself over. So I'm uber proud of myself for doing this!!  Can't wait to finish up work for the week so I can tackle the next two weeks!  Thanks for so much for stopping by, hope I've inspired you a little bit to capture some of those memories yourself!
<3 Shawna