I have been doing a good job over here – I am taking pictures each week and jotting things down. My phone has really been my saving grace because it is SO easy to take pictures on the fly, and my Samsung Galaxy S4 actually takes a really good pic.  Sunday nights I've dedicated to photo ordering, after watching several tutorials about how to use Adobe Lightroom to process and save my pics I have found that it is super quick and easy! I'd never delved into Lightroom before but man, it is a total time saver! After I order and pick up my photos, I've been putting them in the right spots in the book as a starter, and then saving the project of journaling and embellishing until later (right now all of the first 4 weeks are filled with their photos). For example, this is what week 3 currently looks like: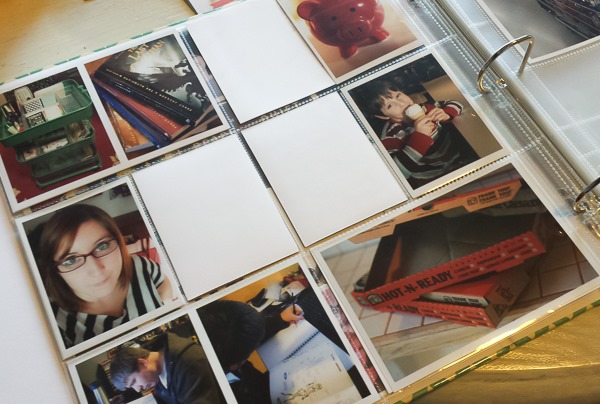 I have to admit, week 1 photos I ordered a total of 3 different times as I learned what did and didn't work, in the end though I'm super happy with them and super grateful for those awesome white border templates (thank YOU Heather Greenwood!) I'm in love with all that white, it really helps tie all my random photos together!
At my monthly scrap night a few days ago, I was able to figure out what I would need to finish week my week 1-4 layouts, I had planned to hand write all of the journaling to simplify everything, but in the end I really really was not happy with that. Instead I ended up doing much of it typed out and then a handful of things with little handwritten tags – eventually I may end up going more hybrid and typing directly on my journal cards before printing out, but I have so many pretty cards printed already that I want to use them up! Also, it is going to take a whole new level of planning, I think I will be working up to it, but for now, I printed out things out and cute them up by hand or in the case of the speech bubbles I used my silhouette.
Anyway, yesterday after getting all my goodies typed up, I was able to complete week one entirely! I'm super proud because I am officially DOING it! It is cute I think, not going to win any awards, BUT it is going to be so much fun for all of us to look back on – I love that it does the job of like 5+ layouts all in one place – I'm so excited about really capturing stuff and putting it down – the family is starting to get excited too! They keep telling me to take pictures of certain things, it is fun to finally have them enthusiastic about photos again (well, besides Gareth, who is pretty sure I'm ruining his future career by having photos posted of him! LOL!).
So, anyway, with out further ado! My Project Life spread, Week 1:
Left Side (you should be able to click them to see it closer up) –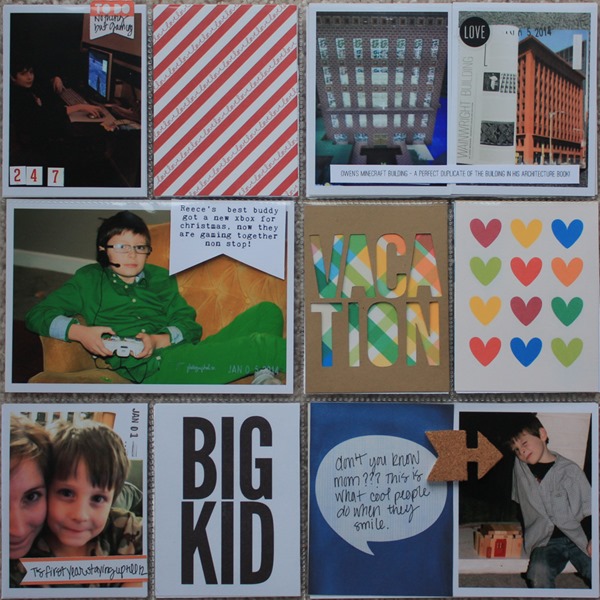 and Right Side:
And here they are Lined up: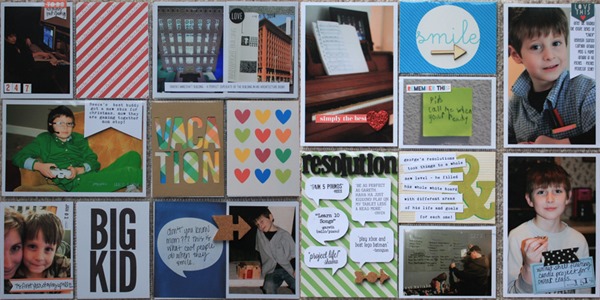 I wasn't sure how I would feel about putting anything with dimension in there because of the pockets, but I really do like the way they ended up coming out – the dimensional stuff is def. more arts and crafts-y and def. more my style so I'm thrilled that it worked for me! Here a close up of some of that: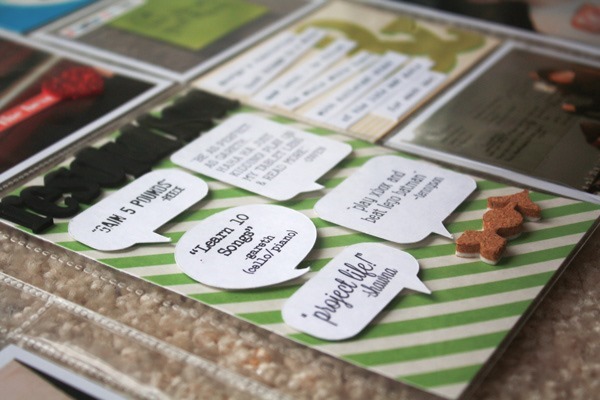 And you can see here that I put my lovely Silhouette to work for this spread too: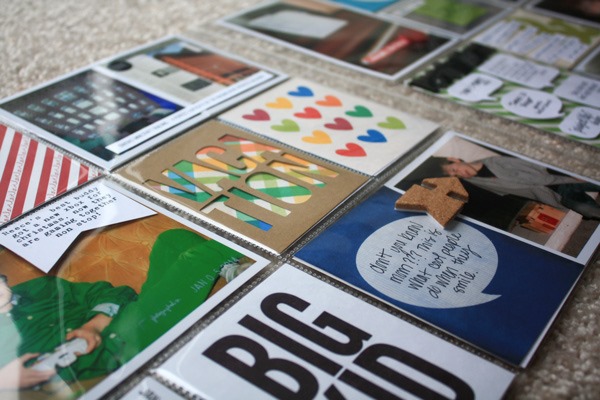 So! What do you think?? I'm really giddy over here, I think this is going to be a really fun journey this year, I'm super excited to finish up my journaling and embellishing for the next 3 weeks, hopefully soon and hopefully a bit more painlessly now that I know my process a bit better. I can't wait to catch up!
Finally – I am really using a mish mesh of things on this, so my credit list is HUGE but I really am going to try my best!
Left Side (top, left to right):  Tab – 52 Smash up by Shawna Clingerman, Numbers – Echo Park, Striped Card – Pocket Life – January: Journalers by Traci Reed, Circle Sticker – Me and My big Ideas, Plaid and Heart Cards – Life Basics: Hello Life by Shawna Clingerman, "Big Kid" Card – Mix 'n' Match Journals 9 by Shawna Clingerman, Speech Bubble Card – Mix 'n' Match Journals 11 by Shawna Clingerman, Cork Arrow – Fancy Pants.
Right Side (top, left to right): Smile Card – Life Stories – Boy by Kristin Cronin Barrow, Wood Arrow – Studio Calico, "love this" and "remember this" strip – Pocket Life – January: Stickers by Traci Reed, Ampersand Card – Life Stories – Boy by Zoe Pearn, Striped Card – Life Basics: Hello Life by Shawna Clingerman. Blue Label and tape – Smash,  Cork Arrow – Fancy Pants.
Well there you have it!! Thanks for Checking out my Project Life Week 1 Layout! Hope to have more to share soon!