Hi all!! Just coming back to the surface after a busy week of work work work! I hosted my very first Thanksgiving in our home this past week and it was wonderful! The turkey survived even though it was frozen solid just 24 hours before, and I was proud of the cooking I did, especially since I'm not really much of a chef.
Of course, I'm so much more excited to tell you about what I do know and love, and that is my crafty bits!  I was able to put these decorations all together on the day of thanksgiving so they were easy to do, and my 9 year old Reece was able to do a ton of it himself, which was fun for him and helpful for me!!
Here's a quick peek at my table settings – we had 17 people so it took us three tables to fit us all!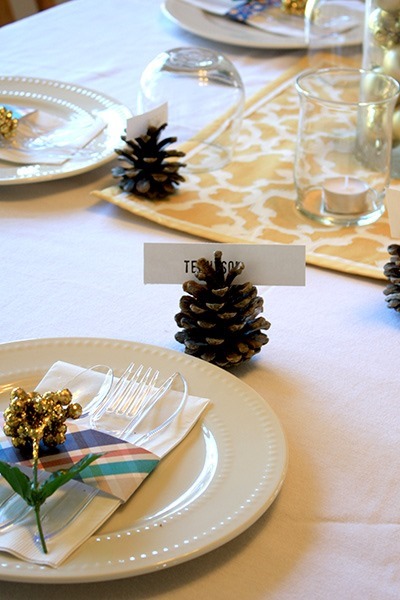 For simplicity I had to use disposable paper napkins and silverware!! No way did we have enough for 17!! But I broke down and bought 20 white plates at the dollar store, they were so pretty and it just seemed worth it to me to buy them rather than spend the money on paper plates.
The pine cones were just like the ones I linked to a few weeks ago – simple pine cones straight from our yard – but since I had a can of glitter spray, I had Reece just spray them down to make them sparkle: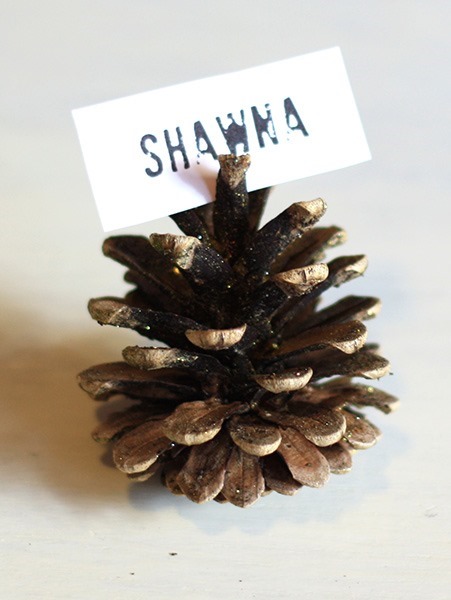 (the photo doesn't quite capture the shine, but they were adorbs! I promise!)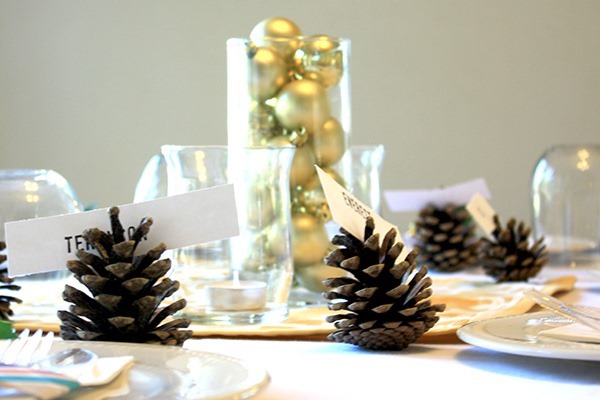 My centerpieces were simple, just a dollar store glass vase with a tube of dollar store golden ornaments dumped in to it.  Next to that I had little jar candle holders with simple tea lights inside! My sister had some pretty yellow placemats that I set them on here.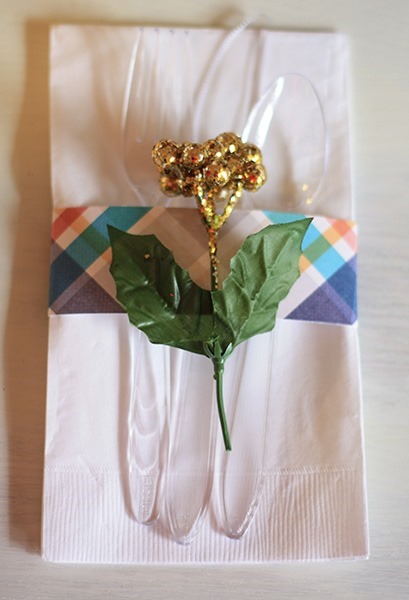 For my pretty little utensil settings, all I did was print out a sheet of paper from my Be Thankful kit with Mari Kohlenberg and cut it lengthwise into strips, then I just folded and fastened the strips around the napkins. The little golden sprigs are also from the dollar store (do you sense a theme??) and the fork knife and spoon slid in there just perfectly!
Finally my finishing touch was the banner that Reece and I put together to hang on the dining room fireplace – it was so so simple! I am really excited to share all about how I did it, but this post is long so I guess that will be my Free Tip for Tuesday! Come back tomorrow and you will see!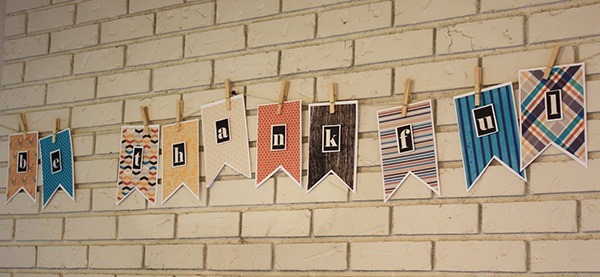 That's about it! But before I go, I wanted to sneak in a few more photos, so many things to be thankful for around here (thanks for taking some pics for me Liz!!)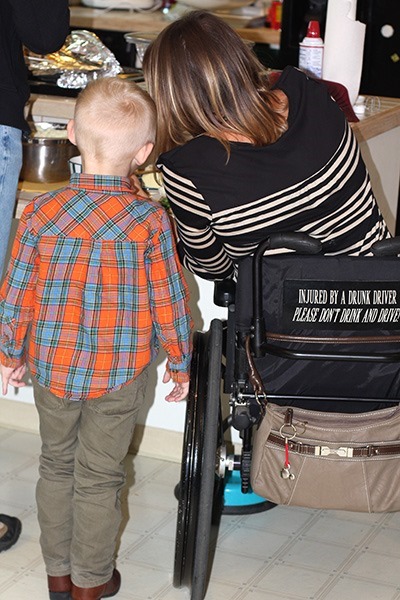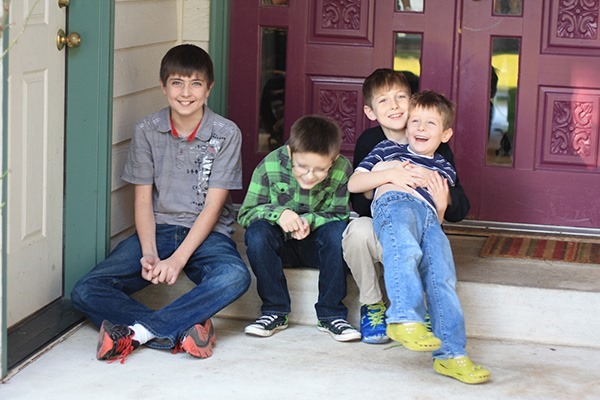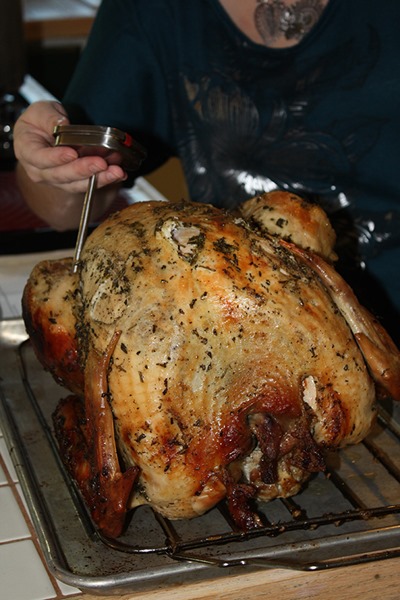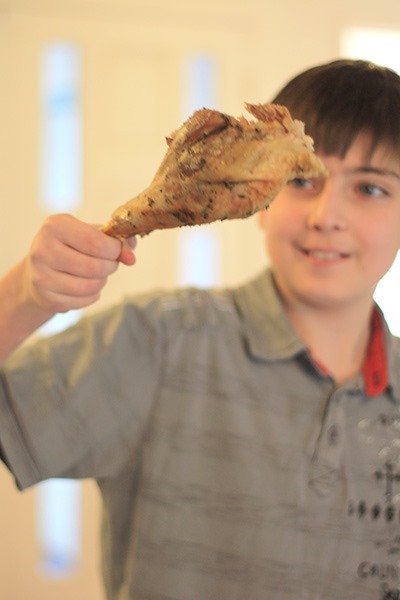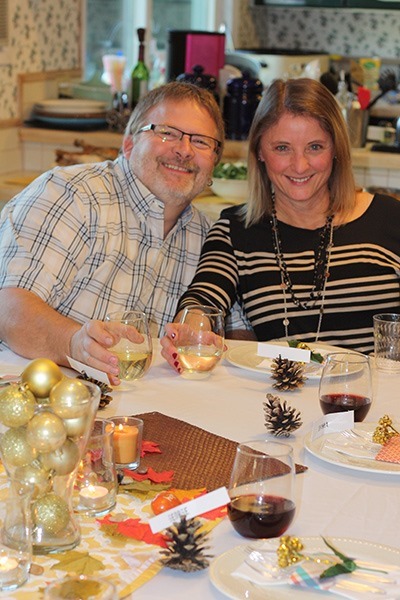 I'll be back tomorrow with some how to's for this lovely banner!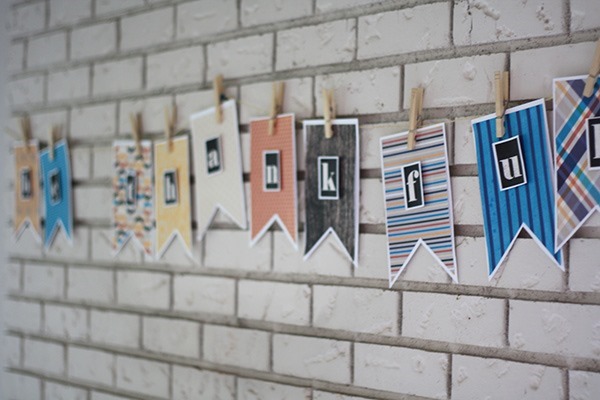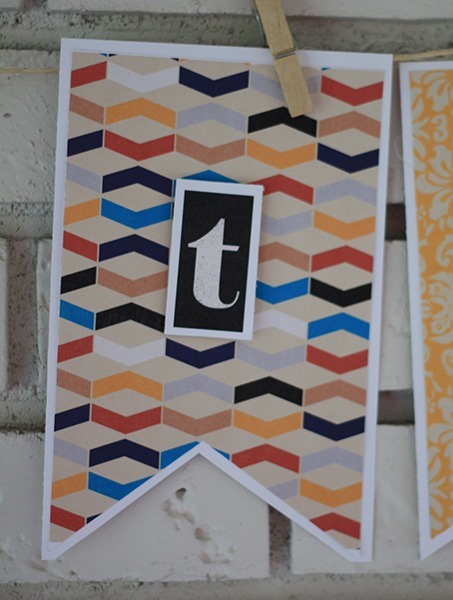 Thanks for stopping by! <3