I'm so excited to introduce you to my newest collection in the Illustrated Faith Print and Pray shop: SEND LOVE.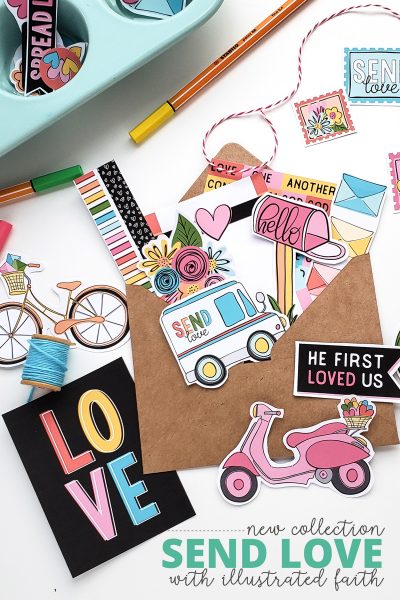 This month I decided to do a little combo of flipping through the pieces in the collection and sharing my process for fussy cutting all the pieces!
If you would like to see a more thorough walkthrough how I cut things out, you can also check out this video: Cutting Tips Using Goodies from the Illustrated Faith Print and Pray Shop
The heart behind this collection is quite simple, but kinda my favorite thing ever:
Over and over again in scripture, we get the memo: Show love, Spread love, BE love in this world. It's just so beautiful the way that God IS love and we get to be reflections of that every day by simply sharing LOVE. We get to be the vessels carrying love around in this world. This collection is all about that idea, we are filled to the brim with love to share because God has loved us so completely. What a beautiful, full circle gift!



Here are a few still shots of this collection:
This collection consists of a set of cut apart pieces, a set of journal cards, and a set of coordinating patterns – You can pick up this collection over in the Illustrated Faith Print and Pray Shop TODAY! Click the images below (or the link above!).
Thank you sweet friends! I hope you enjoy!