Happy August! Holy moly, where did the summer go!? Well, I've been running around with the crew this summer quite a bit and in the process I've been spending my free seconds actually designing things all the while neglecting the bloggy!  I'll have to post my June and July in a nutshell for you, but today I just want to get right to sharing my new releases for the week as well and tell you about a super exciting fun way to get FREE stuff at the Sweet Shoppe through out the month of August!
First off, this week I teamed up with Amber Shaw this week for the very first time to tackle a kit about the bestest kind of grownups: Grandparents!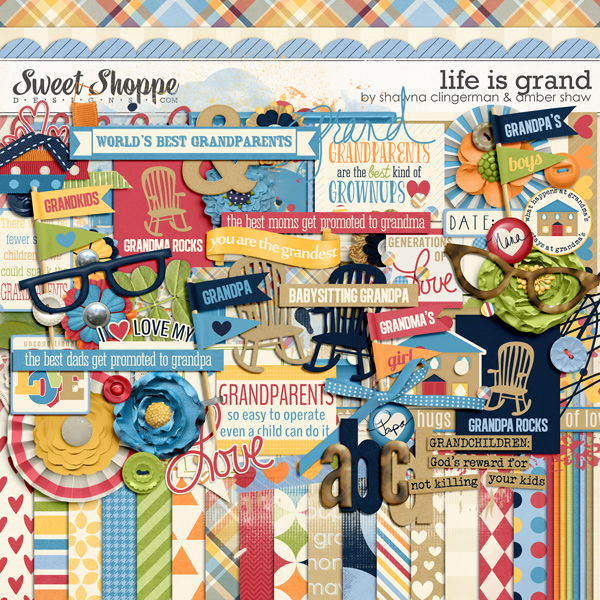 This kit has been a LONG time coming! My kids are super lucky to have the BEST grandparents in the universe, and we've really been needing a fun kit all about grandparents and grandkids and the super special bond they have! Here are some super lovely layouts from the team about exactly that <3

This week I also made a kit on my own – the story behind this kit is that we are in the process of decorating our formal dining room turned music room and I'm planning on using black white and grey with touches of this shade of purple and chartreuse, so since I had them stuck in my brain I decided to roll with it! This kit is one of my favorite "pretty" type kit that I've made ever! I hope you like it too!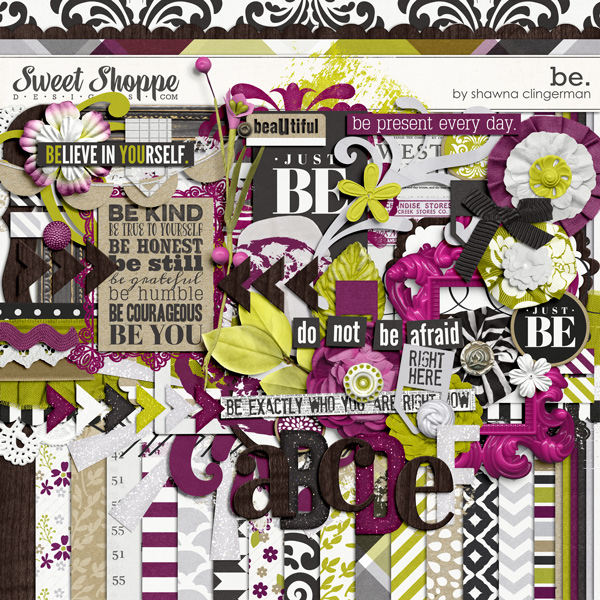 And for my sample here is a sample that I made all by myself, which will be a perfect segue to the next thing I'm dying to tell you about!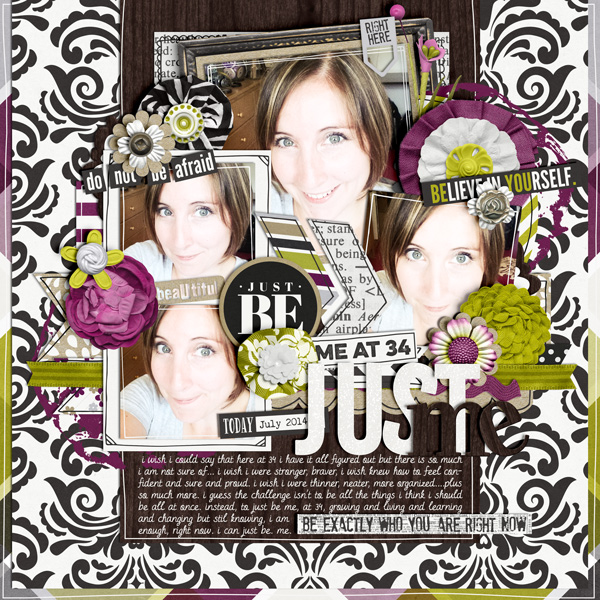 Sooo, what is so exciting about this layout you ask?? WELL, this August Sweet Shoppe Designs is doing something super fun with a brand new month long challenge event that is SO cool! The 2014 Sweet Shadow Box Challenge kicked off today. Basically, all month long there will be a challenge every day, with the opportunity to earn a FREE product for every single challenge you complete! You have to do the challenge with in 48 hours to get the freebie, which means some serious August scrapping – but for super fun FREE stuff, seems like a reason to get your scrap on! Along with getting freebies – everyone that plays along accumulates points to be able to compete for a 60 min shopping spree in the shoppe! I can't even come close to explaining it all, so go read this thread by Sweet Shoppe owner Robin, with all the details. Then click through to our Shadow Box to find your first challenge for today, August 1st! The layout above is my interpretation of the selfie challenge, anyone else planning to play along and do some "all about me "scrapping for today's challenge?
That is all, for now, I will be back soon to share more about my busy summer, AND word on the street is that the freebie from yours truly will be hitting the Sweet Summer Shadow Box SOON! I'll share that my layout for that one with you then, and through out the contest I hope to do as many shadow box layouts as possible because I just can't resist playing along!