I've been busy working away over here the past few weeks getting ready for the big day – November 2nd is the holiday that celebrates my hobby and my day job – Digital Scrapbooking Day!!  This year I've got loads of new goodies including a super fab Best Christmas Ever collection with Studio Basic and Lauren Grier, and a fun paper scrapbooking inspired collection 167 Smash Up! I also have 2 fun new alphabets including my Color Block Alphabet that comes in EIGHT colors!
In the spirit of kicking off the big day, and kicking off the holiday season I have put together a little freebie, The Countdown by Shawna Clingerman is just a little set of blocked numbers that count down to 25, perfect for all those little advent calandars and holiday doodads you have planned 🙂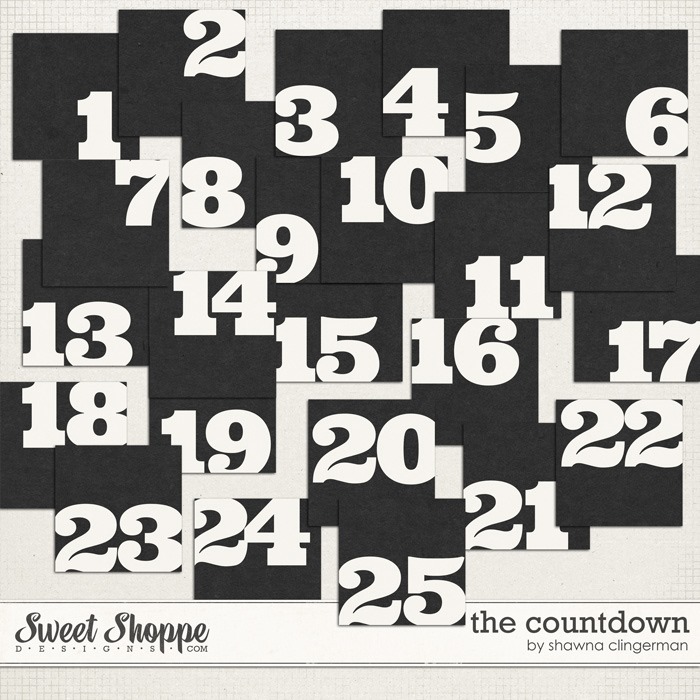 ***DOWNLOAD***DOWNLOAD***DOWNLOAD***
Feel free to download away! Oh, and if you aren't a digital scrapbooker never fear! These numbers are also included on a printable PDF file that you simply open and print, not photo editing software required!
Ok, I won't bore you any longer, if you are like me you have layouts to make and sales to shop!! I'll include little previews below with a link to my new stuff – EVERYTHING is 30% off through Monday in the Shoppe so you don't want to miss it!
Happy DSD Everyone!!! I HOPE to be back tomorrow or Sunday with a few layouts to share!