Hi all! Just dropping in rather randomly over here to share a little bible journaling process video – after being up on youtube for a few months, I noticed out of the blue that my bible journaling flip through video has like over 2000 views – WHAT!? Hahaha, how did that happen? I had no idea!
People's comments have been so thoughtful and sweet, but what I heard more than anything else is that people wanted some process videos! Well, I'm not a videographer or an editor, and I don't love talking or being on video… BUT I do love art so I wanted to play around a little and see what I could come up with! I specifically have had some interest in pages using a watercolor but with one word left unpainted.  I believe the technical term for this is called "watercolor resist" – and the way that I make this happen is with some awesome stuff called "Masking Fluid".  I'll let you see for yourself! I think that it turned out rather fun!
I didn't talk through anything on this video (since I HATE doing that), it is all visual, so here is a bit of a description of what I did:
Take a blank bible page and write/draw/whatever with it BEFORE you go in to do any painting on your page. (I started with penciling in the word "thanks" REALLY lightly to give me a bit of guide for my masking fluid application). THIS is the brand of masking fluid I use, it is called "Fineline" and it comes in a bottle with a needle-like tip.
After you apply your masking fluid make sure to let it dry completely – this step is important! I used a combination of heat tool and time 🙂
Once your paint is dry start watercoloring directly on your page! I didn't use gesso or anything for this particular page, I just went to town! You can paint directly on top of the masking fluid! I decided to do a rainbow and some blending.
After that you let the watercolor dry completely (I cheat and use a heat gun) – but once again super important! If you move on to removal before it is all dry you will tear your page and mess up the effect.
Once it's all dry, you simply and carefully remove the masking fluid – I do that by rubbing gently with my finger, bible pages are a little fragile so be sure to proceed with caution until you get a feel for it! You will see, that a page looks so cool with this effect that you may want to stop there! With this page I added some lettering and doodling (off camera) and I also chose a tab from my newest printables coming soon to the illustrated faith shop and stamped on today's date.
That's it! All in all it's a really simple process and depending on what you decide to do with it, it can be very beginner level in the artistic ability department!
Here is a photo of my finished page: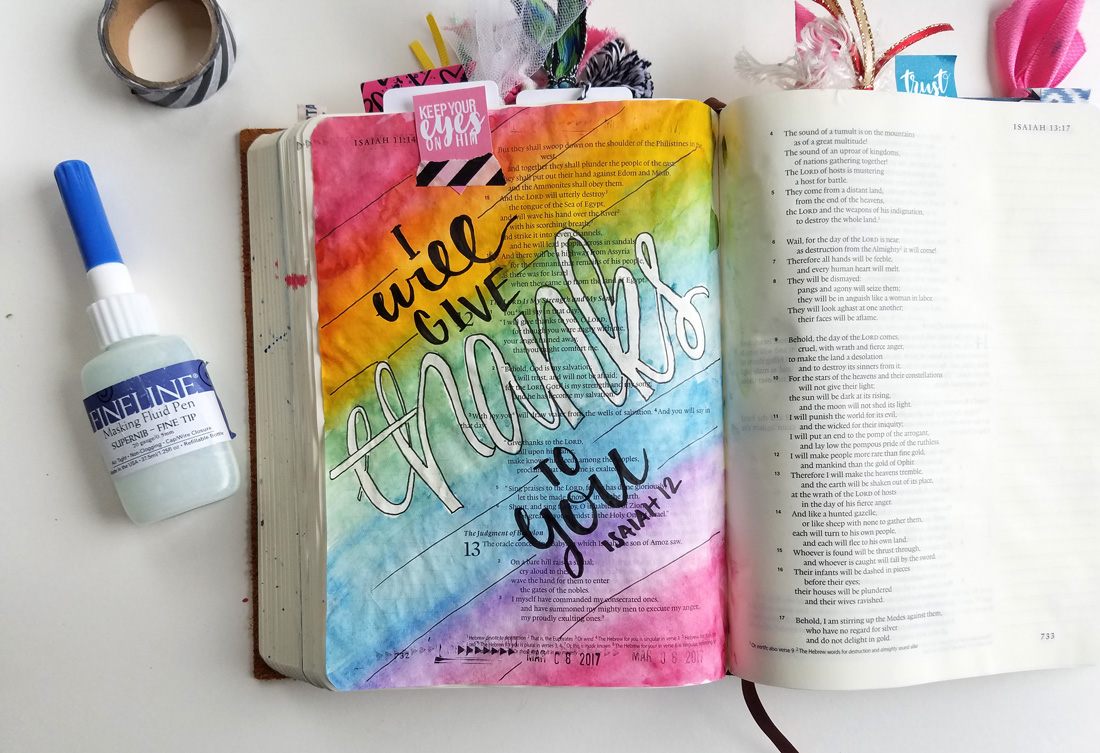 Finally, because I know everyone will ask, here is a list of all the supplies I used:
That's all for now!  If you aren't following me on instagram yet and you like to see what I'm doing in my bible you can give me a follow @ShawnaClingerman – I post little process videos and pictures all the time! And I'm HOPING to keep some videos coming to youtube here and there that are longer than the 1 minute mark so you can see some of my "how" when it comes to bible journaling and especially watercoloring in my bible!