So I don't know if you've heard of One Little Word – but essentially it is a way to focus on one single concept for a year, it is an idea started by Ali Edwards (scrapbooking maven) and lots of scrapbookers have gotten SUPER into the idea of focusing on one word to help shape what they are going to do through out the year.
Well, last year I decided to get in on the trend (always a little late to the party when it comes to trends, but that's just how I roll). I talked about it some in my Yay Me 2015 post, but for 2015 I chose the word "BEGIN" and I really did dive in and START so many of the things that I'd been putting off, it was an amazing year of a million awesome beginnings and I reached the end of December feeling really great about where I was and the journey I'd begun.
So, when I started to consider 2016, I knew I needed something awesome(er).  With a million amazing things I'm trying to keep doing, and feeling so great about the direction I'm headed I thought for a while about trying to use FOCUS as my word, because well, I'm all over the place sometimes, and I REALLY DO HAVE A LOT TO DO! And although focusing could be a good focus, its also not really me (because, well, I'm all over the place), and it doesn't nurture my soul… So I've been pondering…
Well, as I've spent time in January pouring my time into art and learning and church and home (and myself), it sort of started to come to me what this year is going to actually be all about – I've started the process of growing and I began doing the things I've spent so many years dreaming of, and now is the time to Bloom.  Instead of like "nose to the grindstone and FOCUS on making it all happen Shawna" it is like, "really soak it in and immerse yourself in these things you love and so you can blossom and grow"… I LOVE that! That is the message I want to send myself, that is what I want to be thinking as I fill out in my planner and fill in my days. So, for 2016 BLOOM it is.
Well, as often happens, when I have a new idea floating around in my brain, I had to work it into my designing – and it just so worked out because it was time to make a new freebie for the Shoppe to kick off our 10th anniversary! So I used my new happy nurturing One Little Word to build this mini kit: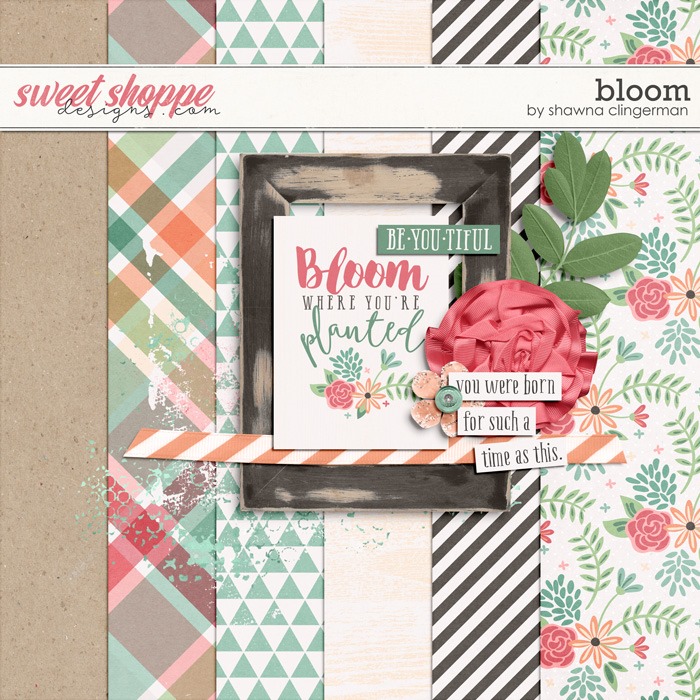 It is a just a sampler to give you a little taste of my designs, so you can pick it up for free any time during the next year in the Shoppe at SSD – and if you likey you can check out the rest of my goodies that I have for sale!
Well, when I made that little 3×4 sized card I just fell in love, I absolutely knew I needed to make a bigger version so that I can hang a print here in my studio to remind me of what I'm doing in here <3 <3 <3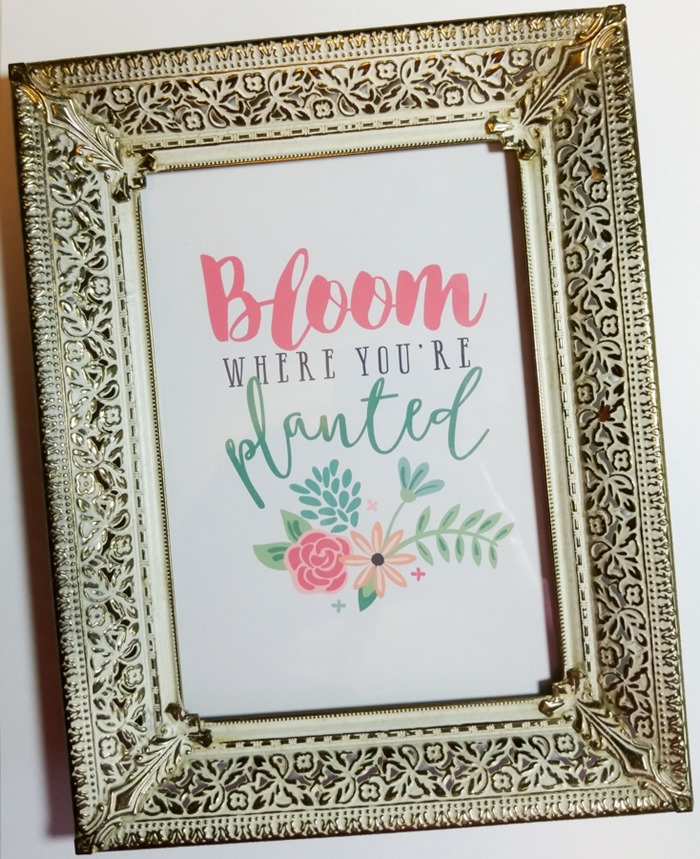 So, if I'm making one for me why not share it with all of you too! I went ahead and saved a version for print that is 4×6, 5×7, or 8×10 so that you can download it in any size you would like! This time I'm skipping the zip folder and just put the JPG images up themselves so that it is easy to do on a mobile device if you would like.
Click HERE to view/save the 8×10
Click HERE to view/save the 5×7
Click HERE to view/save the 4×6
To save to your computer just right click the image and say "save as".
One quick note though, PLEASE remember that these are ONLY for personal use – please do not re-sell in any way shape or form, and please do not re-distribute (even for free) but instead link people here to download from me directly. (Unless  you want to give a printed one to a friend as a gift, please feel free!)
For my personal print I just used on my home printer and photo paper at full quality and it came out beautifully <3 That lovely frame is a 5×7, one of my Goodwill Outlet find (LOVE that place!) When you download and print, just cut off the bottom bar that says "www.shawnaclingerman.com" and it should fit perfectly in the frame of your choice. If you send it to a printer just be sure to crop it before ordering it.
Remember, you can go get the FREE kit in the Shoppe too and in it is a 3×4 sized print for your pocket scrapbooking, plus a bunch of coordinating goodies!
Ok, that is all I have for you today! But I cant go before mentioning that this weekend is a big one at SweetShoppeDesigns.com! Not only is it our 10th anniversary kick off with brand new freebies from all the designers, but we also have a gorgeous site re-design we are revealing and a 30% off of EVERYTHING sale so take this opportunity to pick up something on your wishlist! Keep an eye on the shoppe and forums too because we have special events all month long AND I have 4 new releases up my sleeve! Stay tuned!
<3 Shawna
PS – Like this print? want more??? Please let me know with a comment or share (or both!), and subscribe to my blog on the right hand side there because I have more in my brain but it helps me to know if people are interested <3