This week I got to do the MOST FUN THING EVER – I printed out and prepped some photos and started putting together my 2015 Project Life album. Now, I realize that I'm a wee bit behind, but 2015 was a little crazy for me, PLUS I had kinda been waiting to get started because I wanted to make my book with something extra special…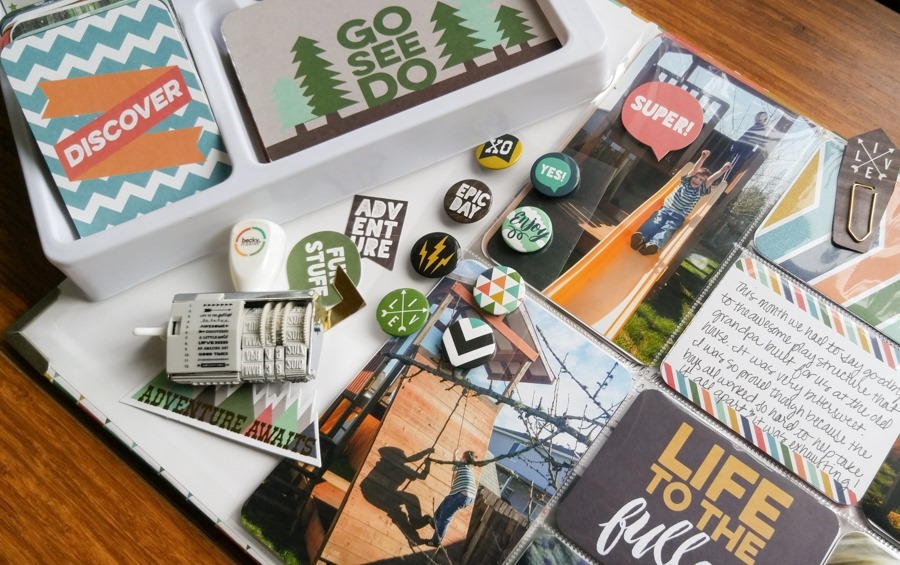 Yep. I am scrapbooking my memories from 2015 using the EXPLORE EDITION that I dreamed up and designed my own little self!! It's pretty un-real folks.
When they asked me to design this collection for them, I was so fortunate to be given the creative freedom to really dream up whatever was in my heart/head and to create something that really could represent me as a designer.  Of course, I was drawn big time to the idea of doing a collection that was super boy friendly and fun. I was also thinking of a kit that would speak to me as a busy mom of 4 kids, and one that spoke to my sense of adventure and to living life to the very fullest, which is something I value down to my core.
Anyway, flash forward to today, and I can't tell you how satisfying it was for me to use those cards that I put so much love in to. I am doing this book in true "classic" Project Life style, meaning I just ordered my photos for the first few months of 2015 (I process my photos in Lightroom, maybe that will be another post for another time…). Then I just started slipping them in the pockets and adding cards to fill the other spaces and to journal/embellish.  The collection I designed has coordinating paper pieces, flair, paperclips, overlays, and a rubber stamp – so of course I couldn't resist pulling those in, and you'll see I added a bit of extra "stuff" here and there from my existing stash – but I really and trying to remember to keep it simpl-ish, and in the true spirit of Project Life, to let  my photos and my stories shine. No pre planning or obsessing needed, I just used the pages I needed for the photos I had.
I only have a few spreads done, but I just couldn't wait to share them! – Here are pages 1 and 2: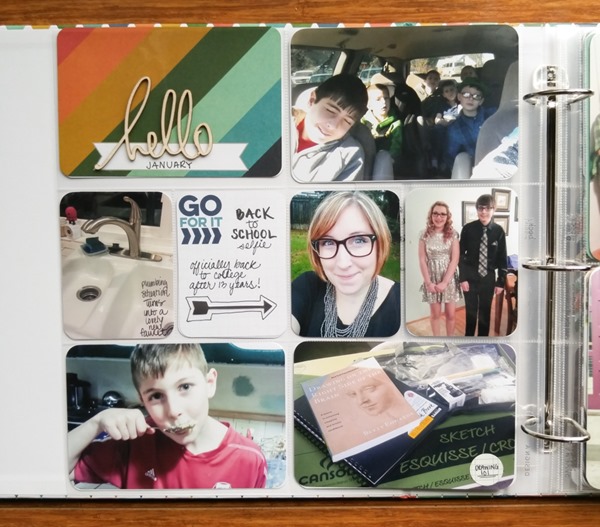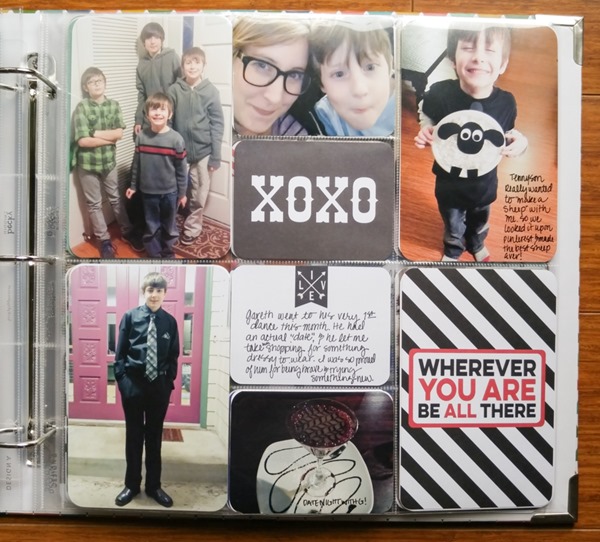 and side by side: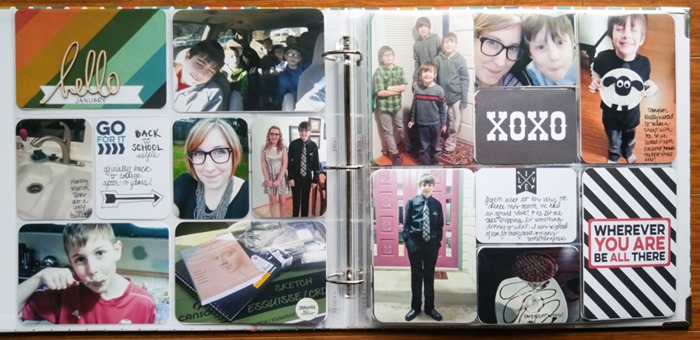 Here are pages 3 and 4: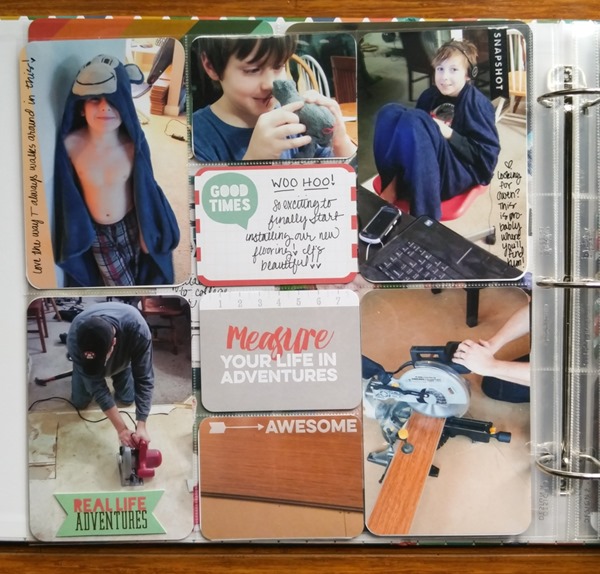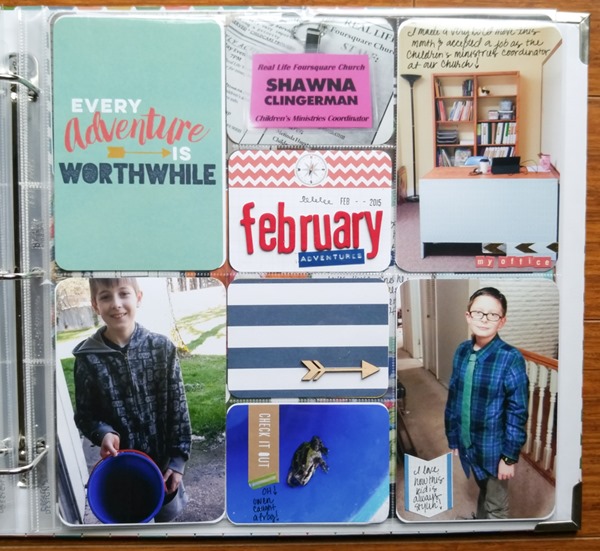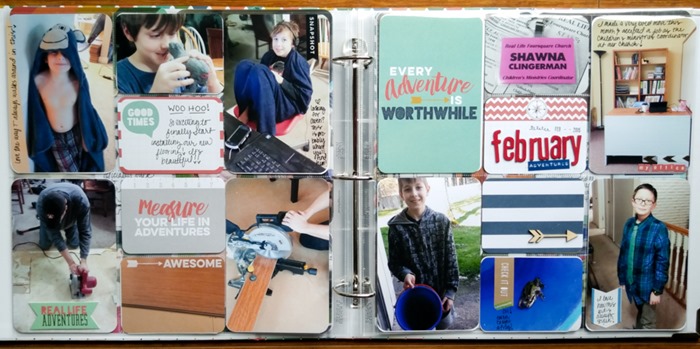 And, my favorite (maybe because I'm finding my groove? Or maybe just because I finally had some outside photos!), here are pages 4 and 5: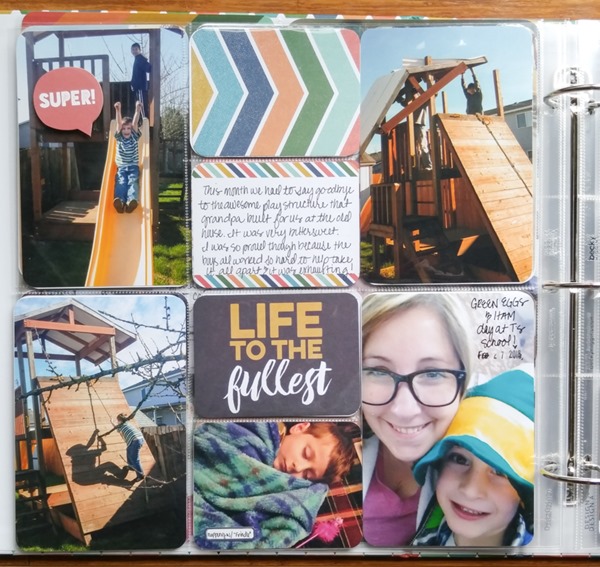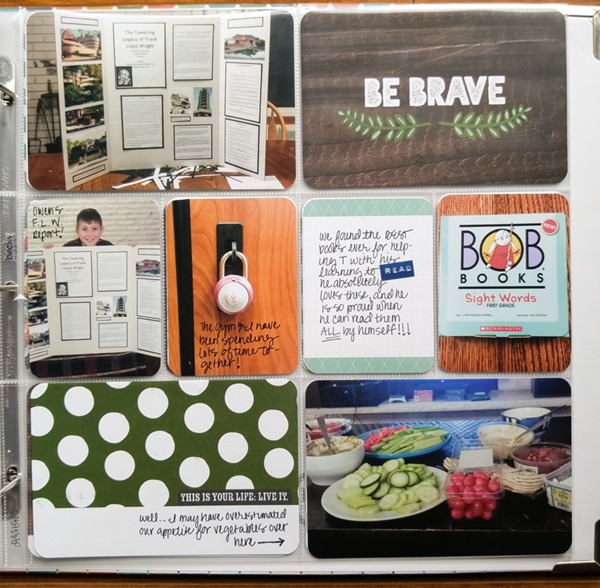 These colors just KILL me seeing them on the full spread, I seriously made the perfect kit for my own self HAHA do you think that is like designer-cheating a bit?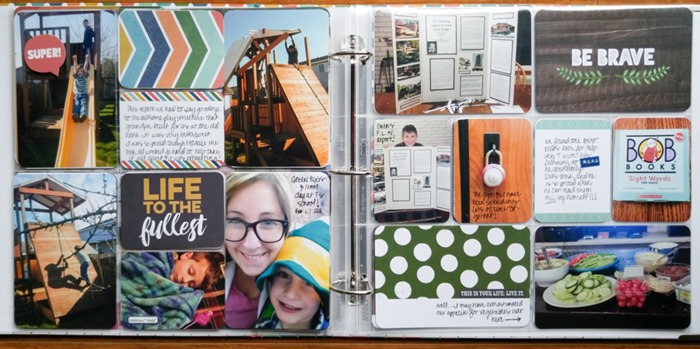 Seeing all of it laid out together with my goodies – I'm just like in a constant state of EEEEEEE. I designed that!!!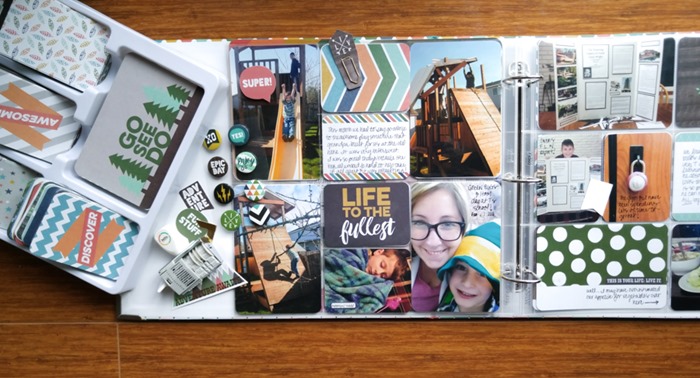 I'm planning to keep working my way through 2015 with this album and then seeing how full gets. Kinda fun because I designed the kit in 2015, and I have like pictures of working on the project, pictures of getting the package in the mail… its going to be like scrapbooking the Explore Edition with the Explore Edition… its going to be adorbs (hehehe). Working with it, I LOVED that when I use just this kit all together, it all just coordinates with out me having to put any thought into it – totally the whole point of the Project Life system and it seriously works!
IF you want to see these products in more detail, or if you are wondering about it's availability (because you MUST HAVE IT), here are some specifics. YES it is available in Digital – Yes it is coming to the app (eventually, not sure exactly when). Here are direct links to all of the products (If they are out of stock here, you can also google, Amazon has the core kit, scrapbook.com has all of it too):
If you are a digital person – you can also get the full kit in Becky's digital shop: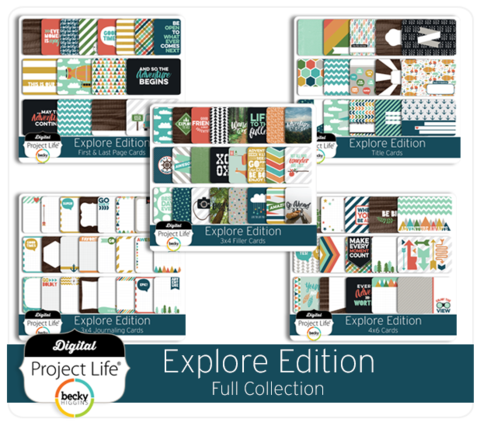 (Also, through her digital site you can see a reference sheet with ALL of the the cards laid out – just incase you wanna see what all is in there.)
I'm so excited to see this album come together! I'll keep posting updates for everyone so you can see!  As far as 2016, I THINK I may try to tackle it us using the Project Life App, on my phone, since it is almost here for android (YIPPEE!). We will see how that flows when we get there, I've never done any sort of scrapbooking with my actual phone… Becky Higgins swears by it though, and she is pretty much brilliant. It would probably be easy to go back and forth between using the app through out 2016 and then coming back to my book and working on the previous year in physical form.
Thank you all for stopping by and letting me share! If you are thinking about project life or wondering more about what it is, I really encourage you to go check out Becky's site to see all it has to offer! It really is the sort of scrapbooking that is for ANYONE, not just the obsessively creative types. You can also read more about how/why I started project life in 2014 HERE – and find some of my past spreads by checking out the "2014 project life" category here on my blog! I should mention though, that the method I was using then was QUITE a bit more complicated than the print and tuck method I'm trying out this time around! I am hoping it is much easier to maintain – because OH how I love getting out that completed book I did for 2014! It is SO SO SO fulfilling to have those memories captured in a tangible way, and the kids' faces literally light up every time they open it up. Priceless.
Ok well that is all for now! Have an amazing, full, adventure filled day my friends! More next week! (Next post should have another printable FREEBIE too!)
<3 Shawna