Today I want to take a second to talk a little about WHY picking a word of the year is so powerful.
I'm on day 18 over here of sharing people's stories I for their 2019 words, and maybe you are wondering… WHY?? What's the big deal? What does it matter? Why do you even care??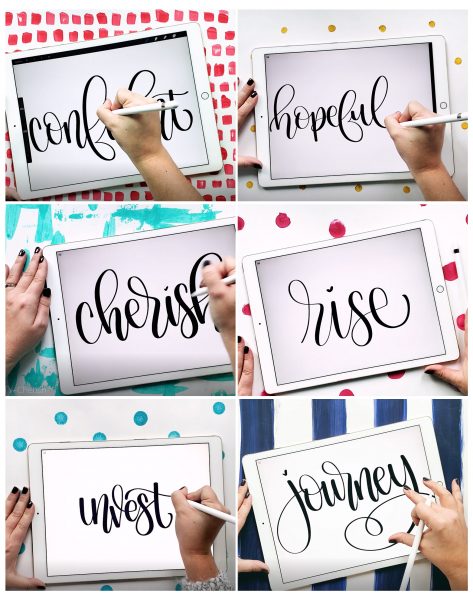 Well, I really believe picking a word of the year to be one of the most powerful things you can do in terms of goal setting and personal growth. Words of the year have a way of following you, growing and evolving with you, and making a really impactful change if you let them!
Rather than speak in vague terms, about success and evolution and internal growth… I thought I would just share my story with you. Here is my word of the year Journey, and what it has meant to me. My hope is that it inspires you and helps you understand a little, just what I get so worked up about over here when I start getting giddy talking about words!
2015, the BEGINning: I picked my first Word of the Year in 2015. 2015, it was the first year I choose a word, and when I thought about what mattered to me, I felt ready to just begin. I wanted to step into all of the things I'd been waiting to begin for years. Little did I knew it that year, but my year of "Begin" was actually going to be a beginning of SO MANY things. It was the beginning of picking words of the year, it was the beginning of going back to school, the begging of illustrating for actual physical scrapbooking companies, getting a job outside of the home, and most importantly finding some courage and confidence in my abilities as an artist…  It started me on this path I've come to love SO much. This path of less self-doubt and putting things off, and more DOING the things I'm dreaming of. Begin taught me that the first baby step is actually the most important thing, begin launched me forward, into well, everything.
Blooming in 2016: I started 2016 feeling so much further along than I was the year before, and because I had had the courage to begin the year before, in 2016 I was able to focus on growing in the things I already had planted. I took class, upon class, I learned to really relish getting better and growing. I really learning started watercolor, I formed an art journaling habit… I let myself I bloom into more and of myself. It was a precious year of competence building, and finding footing and letting myself blossom. Once again the word bloom stuck with me, it gave me permission I needed to really invest into myself. It helped me get stronger and more sure. It was such a great year for growing my business, and my skill set… and every time I started to feel like "should I do this, can I do this??" I got to remind myself that this year was a year to BLOOM. It was a beautiful thing!
Embrace 2017
: In 2017 the word I needed simply found me. I found the #embrace campaign and the brilliant
Taryn Brumfit
. I knew as soon as I hit that new year, that it was just time. Time to stop trying to be something I was not both in my physical body and in the way I exist in the world. I read books like Love Warrior, and Eat Pray Love, I stopped my yo-yo dieting cycles and just let my self BE. Over and over and over I came back to this word, as I learned to really appreciate who I am in an honest way. I can not even tell you how powerful it was to spend a full year focusing on just being ME. On appreciating my body, my abilities, my flaws. I honestly break down in tears every time I talk about my year of Embrace – because the way this year changed me was so powerful. (You can read my
embrace post
that I did mid year that year right if you would like… and let me tell you, those things I learned, that peace with myself I found has only grown since. It is such a beautiful thing) Embracing was a gift I gave myself for sure, and a gift that changed how I felt about myself on a deep, meaningful, level that I still hold to every day!
2018 the year of Fearless: This past year, 2018, friends this year was the year for FEARLESS – it was all born from the bible verse that says "There is no Fear in love" and on the tail of optical upheaval and so much divisiveness, I found myself SO challenged by that verse. I can't possibly fit everything this word has meant to me in this one summary post, but for today let me tell you that this word has shifted so many things for me! It has forced me to stop hiding behind "sweet" and to be more REAL, it has given me motivation and courage to do really hard things, to face some of those long-standing limiting beliefs that were holding me back. It has spurred me into success in my business, it has brought me closer to the people I love the most because I don't hide behind my old ways of being. I had NO IDEA how much I was operating from a place a fear until I invited the word FEARLESS in, and WHEW. It has been a year of courage, and boldness, and HOPE. It has been the perfect word to move me forward and help me grow stronger. I'm beyond proud of my work, and so grateful for what fearless had to teach me. I seriously had NO idea going in…. and today I'm kinda reeling when I think about it! Fearless is a word that I will come back to forever, because any time I find myself having an intense reaction, being unkind or unfair or overly self-critical, I've learned to start looking for that hidden layer of fear – it is amazing how enlightening it has been.
This upcoming 2019 is all about Chosen. I want to remember in everything I do, that I have a calling, that I was chosen for this time, this place in my life… AND, I think even more importantly, I need to remember that I have CHOSEN to be here. Everything I take on, every journey I take, every decision I make: let it be with the mindset of my chosen purpose. I want to embrace my plans, my goals, my chosen course with all the fearlessness I learned in 2018.
I have so SO much to learn about choosing and planning and goal setting, this may actually be a million times harder than "Fearless"… because choice scares the crap out of me. BUT -if these past 4 years have taught me anything, it is that my word has places to take me that I don't even know… and that when I CHOOSE something and go after it, beautiful things follow. So I choose CHOSEN, I choose a life of intention… and I'm going to choose fiercely.
Friends, I can't even tell you how much of a gift each of these words have been for me! It is such a great evolution on the idea of "resolutions"… because I had a tendency to see resolutions as very"pass/fail" to me, and these words, the felt like they could be woven into my real life. Over and over, they meet me right where I'm at, and remind me, what my vision for the year is.  
I love seeing, too, how they just keep building on each other, I was not ready to bloom before I began, I couldn't have faced Fearless with the kind of self-compassion I had learned with Embrace. And I'll tell you right now, a year focused on choice and intention and purpose, that never is something I would have been ready for if I hadn't made fearless my friend…
AHHHHH! Seriously it is so exciting I can't even stand it.
I love looking back, I love seeing how far I've come. In 2015, I didn't even know really what I wanted from my life, and gosh, today I feel like the world is my oyster, and I KNOW who I am… This next year has so much potential to be powerful, and so I'm going to go for it with all my heart!!
Have you picked a word of the year yet?? If so I hope you've shared your story with me over on my WOTY page! One thing I have found is that the more I put my word out there, the more I talk about it, celebrate it, surround myself with it, the more it sinks in and becomes a way of life. So be sure to make it YOURS by getting that word around you in your environment. I have a necklace, a mug, a foil print, a notebook, and all of those things have helped me cling to fearless, especially when it was feeling hard.
And if you haven't decided on your word yet, I do have some tips for you over on my
Choosing Your Word
post. You can do this thing! AND I would venture to bet you already know it deep inside your soul… it's more about uncovering than finding I think! ❤️
Best of luck friends! Keep following along with my Handlettered Word of the Year project where I'm sharing videos of your words, and your stories over on
Instagram
and
Facebook
, and be sure to get your word in using the form on my
WOTY Page
!!! And then pick up some word of the year goodies in my
Etsy Shop
, because it helps so much to have your word surrounding you throughout the year!